Jayla Trombley
15N1 Assistant Coach
Recruiting Coordinator
Operations Coordinator
ARVC Admin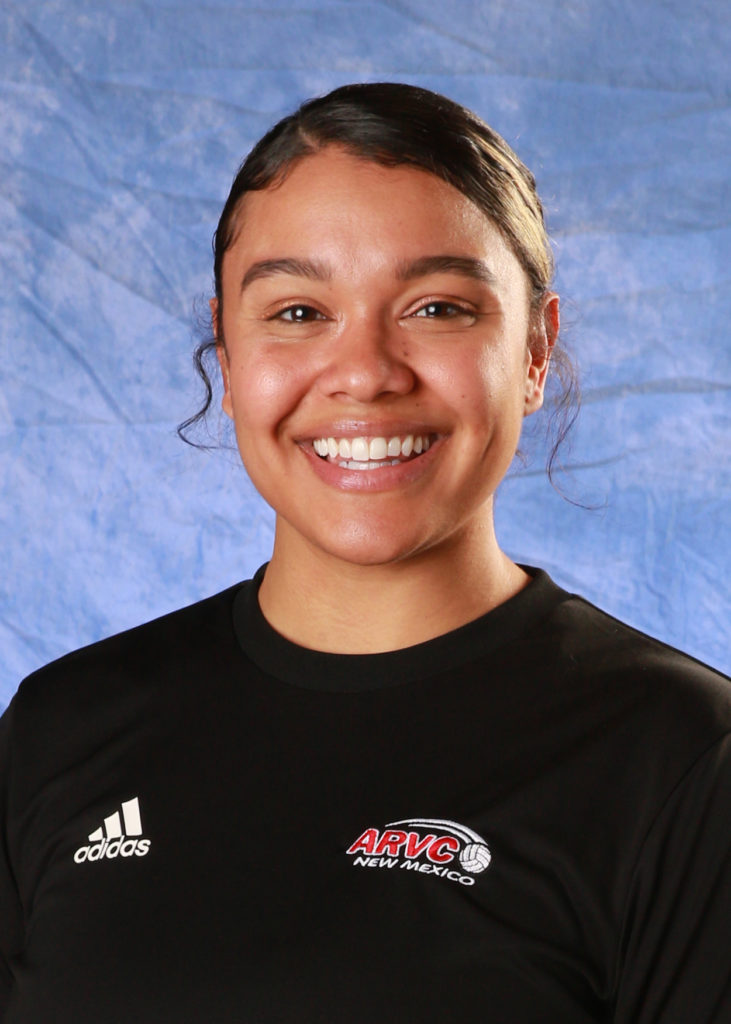 Coach Jayla was born in Albuquerque, NM and raised in Rio Rancho. She now calls the North Valley home and she's proud to be a Burquena!
Coach Jayla's volleyball career started in middle school. She went on to play Varsity as an outside hitter and middle blocker and was a 4-Year Lettermen for Rio Rancho High. During her prep years at Rio Rancho High School, she contributing to two NMAA State Championships, earning All-Metro Player of the Year, and placed in the National top 50 of the Under Armor Watch List. She began her club career as a freshman playing for the 16-1s and continued to play up  for NM Jrs as an outside and middle blocker.
Coach Jayla earned full athletic scholarships to both UNM, where she played for 1 year, and Barry University, where she was the team captain for 3 years and was honored as the Most Valuable Player in 2015.
Her volleyball career was cut short by a major shoulder injury after her Senior Year at Barry University. She continued to play competively in adult court and sand tournaments in Miami. Coach Jay's passion for volleyball lead her to coaching for ARVC. Coach Jayla is entering her 6th year with ARVC. In her time with ARVC she has assisted 14R2, 14R1, 16N2, 16N1. She became a head coach in 2021 while she coached the 14N1 team. She moved up with them in 2022 for their 15N1 year and will head to Chicago with them for her first career Nationals appearance as a coach!
Coach Jay is the Recruiting Coordinator, Operations Coordinator and an ARVC Admin. She is a PROUD mama to her son Zae who was born in February of 2023!
Coach Jayla's Coaching Philosophy - 
"I believe that there's a place in this sport for every athlete that loves it. I value the lessons I've  learned on the court, from teammates, and from my phenomenal (and not so phenomenal) coaches throughout my own volleyball career. I'm grateful for the incredible role models in my life and I want to be that for young adults. Most importantly,  I want to be part of their love for this sport but, teach them that this is only a small piece of their lives. I want them to know they are bigger, more valuable and more important than this sport and be part of  maximizing their potential as a human being...while also teaching them how to be an absolute animal on the court!"
She holds USAV-IMPACT and NFHS Level 1 certifications in volleyball coaching.
Coach Jayla's Favorite Quote -
"Your nerves are just your body's way of telling you, you're ready. Ready to take on anything and anyone."- Steve Hendricks (Barry University, Head Coach)