Pre-Tryout Clinics
2021-2022 Season
GIRLS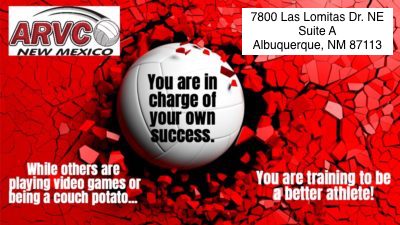 ARVC will be following all Covid 19 Safe practices set forth by NMDOH and CDC.
 To see the rules in our programs you may visit our Covid safe practices page.
IT IS VERY IMPORTANT TO REMEMBER THAT IF YOUR CHILD IS SICK THEY SHOULD NOT ATTEND ANY TRAINING. WE WILL TAKE TEMPERATURES AND SEND HOME ANY ATHLETES WITH OF FEVER OF 100 OR MORE.
Wednesdays
July 21st & 28th
5:00pm - 6:30pm
$15.00 / Day
Fridays
July 23rd & 30th
5:00pm - 6:30pm
$15.00 / Day
Wednesdays
July 21st & 28th
6:30pm - 8:00pm
$15.00 / Day
Fridays
July 23rd & 30th
6:30pm - 8:00pm
$15.00 / Day
Wednesdays
July 7th, 14th, 21st, 28th
5:00pm - 6:30pm
$15.00 / Day
Fridays
July 9th, 23rd, 30th
5:00pm - 6:30pm
$15.00 / Day
Wednesdays
July 7th, 14th, 21st, 28th
6:30pm - 8:00pm
$15.00 / Day
Fridays
July 9th, 23rd, 30th
6:30pm - 8:00pm
$15.00 / Day